Laptop Repair and Software Support
Serving Buffalo NY and WNY since 1982
Go to Virus and Spyware Removal
Virus and Spyware Removal
We have years of experience removing malware, viruses and spyware for clients around Buffalo, NY. In some cases we can remove the virus without reloading your OS. We work with Norton, Mcafee, Avast, Webroot, AVG and many other anti-virus malware software packages. Were you scammed by a fake Microsoft tech support person? We can help.
Go to Laptop Repair and Service
Laptop Repair and Service
We can usually repair most makes and models of laptops. We repair Dell, Toshiba, Asus, Lenovo IBM, Gateway, HP and Compaq laptops. We will also work on laptops purchased from Best Buy, Office Max or any local retailer. We can diagnose if the issue is software or hardware related.
Go to Hard Drive Backup and Recovery
Hard Drive Backup and Recovery
We can usually recover and backup your photos, files and business records caused by software and hardware issues. We can also retrieve photos and work files from Windows XP, Vista, Windows 7, 8, 10 and Windows 98. We will also transfer your files from your old laptop to your new laptop.
Go to Windows upgrades and Hardware Installation
Windows upgrades and Hardware Installation
Increase the speed of your laptop with a memory upgrade or a sata – m.2 SSD solid state hard drive. If your laptop supports the OS we can also upgrade your current windows operating system to Windows 10 or 11.
Best Laptop Repair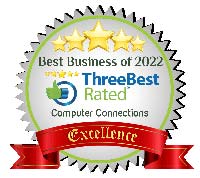 Centrally Located at Union and Walden 5 minutes from the Galleria
Since 1982, Computer Connections has provided laptop repair, virus removal and software support to our customers in the Buffalo NY area. Computer Connections offers virus removal, data backup, laptop screen replacement and laptop repair. We can save your photos and business related work files. In addition Computer Connections has partnered up with Online Media to offer businesses web hosting services and web page design. Our commitment to our customers is what has made Computer Connections your source for computer service and repair for over 39 years. We service or repair most makes and models of laptops that were made since 1982. If you purchased a laptop from a vendor that is no longer in business we can service that laptop for you. We also do upgrades that include ram and solid state SSD drives. We can also help with Windows XP, Vista, Windows 7, Windows 8 upgrades to Windows 10. Most advice is free as are most computer repair estimates. Call 716-681-3664 for details.
Serving 100's of clients and businesses from Buffalo, Cheektowaga, Lancaster, West Seneca, Amherst, Alden, Clarence, Orchard Park and surrounding areas. We offer drop off, in home and onsite IT service for your business.

With over 39 years of experience we can handle most laptop repairs. We service Dell, Toshiba, Gateway, HP, Compaq, Acer, Asus and Lenovo. We have basically seen it all.

Same day service available for some software and hardware repairs. Some repairs may take 2 to 4 days depending on parts availability.

Basic advice is free and our prices are very reasonable. Sometimes it's a better decision to replace a laptop instead of repairing the unit.
Have a Laptop repair Question?
Or call 716-681-3664